Thank you for your faithful partnership with Faith For Today. For every donation of $35 or more we will send you a copy of Tears To Joy.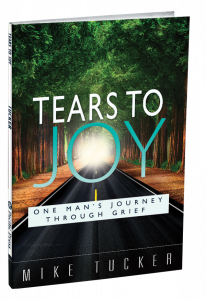 If you have ever lost someone you love, you know how deep the wound cuts. In Tears to Joy, author Mike Tucker shares from his heart his struggles through the heartache of grief after the death of his wife of more than 40 years, Gayle Anne Whitacre Tucker. Her death affected every corner of his life, both personal and professional. He didn't only lose a wife but a ministry partner as well.
Everything Mike ever taught as a pastor, chaplain and counselor on grief was suddenly put to the test. This book shares his story while including research and material he found helpful through the grieving process. This book is designed to give courage to those who are navigating life's most difficult journey.
Faith for Today will use the information you provide on this form to be in touch with you and to provide updates and marketing. You can change your mind at any time by contacting us at info@faithfortoday.tv. We will treat your information with respect. By clicking the "Donate" button in the form, you agree that we may process your information in accordance with these terms.